A collection of photos from various sources submitted to the web page. Remember we don't suggest these are real, just worthy of your consideration.
Click on Picture to See Full Size

Marek W. from Vancouver BC. writes: Two days ago my brother came back from a vacation in Europe. One of the stops included Austria where he was touring an old palace and snapped a series of photographs of the interior. Today, we had picked up the pictures after they were developed and this is what we found. Notice a strange "figure" to the right of the door in the middle of the picture. He SWORE to me that when they were taking pictures of the interior "there was absolutely NO ONE in the room, except for a couple of people behind us and the tour guide". I don't want to rush and say that this is a "ghost" photograph, however it seems weird and I don't know what to make of it. (11/14/99)


Ghost photo, scanned by Art Bell, submitted by Frank Lavoie taken by David Ladd, who does state this is a developing process artifact, but interesting none the less. David takes photos of his historic resotration work of farmhouses in Rockingham County in New Hampshire. "A Connection?" Here is an uncompressed version (240K) Posted 11/09/99.


Chris Anderson writes: Here is a picture of a ghost (spirit) that we made a color copy of in Wilsonville, Oregon in about 1996. The lady who brought this to us said that the little girl in the picture's grandfather passed away approximately 3 months earlier. The day this picture was taken was this girl's mother's wedding day. The ghost (spirit) seems to be coming out of a picture on the wall. That was a photo of her grandpa.


Wetseal writes: Art, I am a fire fighter and a paramedic, I was at the fire this picture was taken at. In the middle of the picture is a window and behind that window was a bed. This bed is where the man was found. Look at the black figure in the middle, it is the ghost of the dead man. Also if you look you can see other ghosts or demons in this picture. I have looked at this with lots of other people. This picture hangs in the fire station at a local fire station in Texas.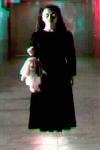 E-Mailed to Art with no documentation. For your consideration! (Hint: Try viewing with 3-D glasses!!!)


Submitted by Carolyn Gardner, this photo came from her neighbor (girl on the left), taken in 1975 at the Mt. Palomar Observatory in So. Ca.


The man in a tree, submitted by Adam Campbell, photo taken in a cemetery, Wilmington, NC, 1992. Here is a second shot taken, just to show you it wasn't a photographic anomoly.


One of a series of 5 pictures taken by Dan Papineau of a residential fire place, which when developed, shows what Dan says is a robed woman holding a baby in front of a burning cross.


This picture of the angel in the sky was actually taken by my husband, Paul McNear. It was taken on St. George Island in Appalachicola on the Gulf of Florida in 1998. Paul was taking pictures of clouds that afternoon and never noticed the image until the pictures came back from the developer. The picture was passed out to many friends and relatives, obviously Art Bell fans like myself. -- Laurie McNear (pmcnear@cfl.rr.com)