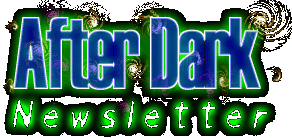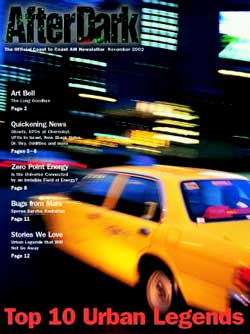 Do You Have A Natural Curiosity for the...
Un-Natural?

Only After Dark, the official newsletter for Coast To Coast AM, satisfies seekers of the weird, the unexplainable and the supernatural - in even more detail than the radio show. Plus After Dark dares to explore, in-depth, today's alternative worlds of health, medicine, and spirituality.

Featured in the December Issue:


Art Bell
His last editorial, and a historical photo gallery
Black Budgets
100 million dollars unaccounted for every day
Future Trends
What does Gerald Celente see? Middle Class unrest, the Black Plague of Immunity and more
Angelic Miracles
Help from Nowhere
Climate Changes
and much, much more...
<!- End of Current Month text -->
Ordering Information

Order your subscription today and get TWO FREE ISSUES!

14 issues for the low yearly rate of $39.95
To subscribe, you may
Order ONLINE
Order by phone:
888-727-5505
Order by mail:
After Dark Newsletter
P.O. Box 42034
Palm Coast, FL 32142-0234

After Dark also makes a Great Gift!