I have always loved sports, football in the fall, baseball in the spring, the Olympics every four years and most recently, soccer. I will watch championship matches in tennis and basketball, but my love is the National Football League.
This was the first year that Art and I had the opportunity to watch the entire football season, from pre-season to post, without time being a factor. I tend to be more vocal than Art when it comes to watching a game on television, so that my yells and cheers could be heard a quarter of a mile away. I can not explain my particular fascination with the whole concept of Football, other than it calls out something primal inside me. It may be the contact between players or the strategy of plays or that I just love to cheer on my favorite teams.
There is a certain Gladiator appeal to the sport, two teams facing each other on the field of battle with one goal in mind, to be the best and play in the biggest game of the season, SuperBowl. Our two hands-on favorite teams this season were the Minnesota Vikings and the Oakland Raiders, though a few teams came up through the ranks unexpectedly to participate in the playoffs. But as with the title of the movie "Any Given Sunday", both of our favorites were knocked out of the playoffs. This matchup would be between the New York Giants and the Baltimore Ravens.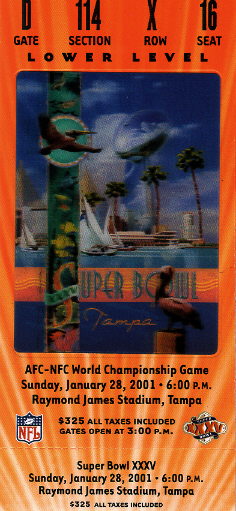 So when the opportunity came for us to go to Tampa Florida to see SuperBowl XXXV, we jumped at the chance. Why go to a game when neither of our teams made it to the big dance? Because in the world of NFL, it is not just a game, it's THE Happening. So we scheduled a cat sitter, booked airline tickets to Tampa, and headed off to the big game.
First hitch in our plan, Art had a back injury that did not allowed him to straighten up for two days. The second hitch, a long delay in Cinncinati due to a snow storm. With a few rather uncomfortable moments of turbulance to enhance our journey, we finally arrived in Florida.
I found out that Tampa was not only host-city for SuperBowl, but was in the midst of celebrating their own form of Mardi Gras, The Gasparilla Pirate Fest. This week-long festival has been a part of Tampa history since 1904 and is normally held in February, but was moved to coincide with SuperBowl XXXV and its festivities. It seems the festival was built around the local legend of pirate Jose Gaspar and though little is known about his life or death, Gaspar accounts from his personal diary of the capture and burning of some 36 ships in twelve years, terrorizing the coastal waters of West Florida from the late 18th century to the early 19th century. It is not known whether Gaspar or Gasparilla ever invaded Tampa either, but once every year for the last 94 years, pirates have invaded the city of Tampa. This year's invasion of Tampa Bay was nothing less than spectacular. With seven hundred pirates of Ye Mystic Krewe of Gasparilla aboard, the Jose Gasparilla was escorted into the harbour by more than 1000 small boats and pleasure craft. A huge parade of pirates, floats and marching bands followed the invasion, throwing strings of beads and trinkets into the crowds that lined the parade route for three miles. It was estimated that nearly 750,000 people were in Tampa to celebrate both events.
Now it's Super Sunday and I can not decide which is more exciting, going to the game or knowing that Survivor II starts immediatly after it. So, with all the necessary items Art has to have to record the game, off we go to Raymond James Stadium. Little did I know that part of the experience was trying to find a parking space close to the stadium. After an hour of seemingly aimless driving, we find our spot, munch a little lunch, and set off on our merry way. Now if walking two miles in very warm and humid weather, lugging 3 cameras, two coats and assorted items could be any less appealing, guess who had to walk back to the car to lock up our video camera that was not allowed at the game? You got it, Me!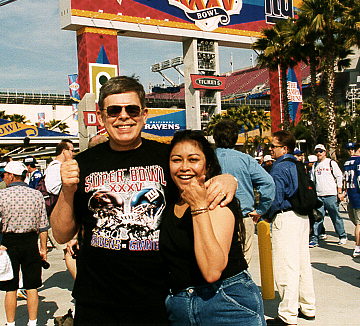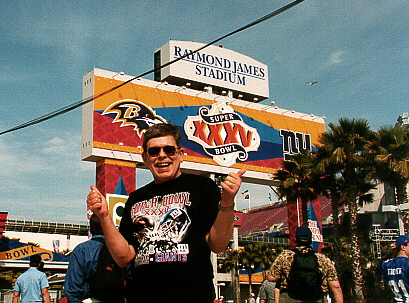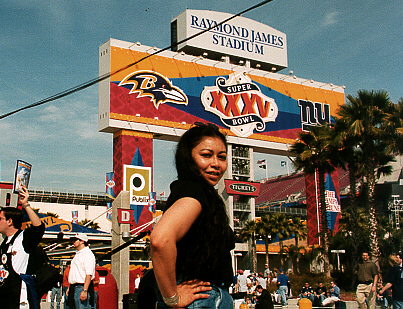 By the time I got back to Art, the gates were open and off we went to find our section. And in true form, we have to start our picture-taking fest, pictures of the crowd, action on the field, each other, background shots of the stadium, typical football fan snaps. Then Art mentions we should do a little souvineer shopping before the rest of the crowd in our section was seated. Little did I know that my big kid had his eye on a prize, a SuperBowl XXXV helmet. Guess who gets to carry it around and has to deal with the problem of stashing it away? You guess it, Me!