Jack Falsom (stonecarverus@yahoo.com) sends us: A friend and I were going through some of her old family photo albums last weekend archiving them to CD-ROMs. They were all behind plastic sheets and when I remove this one to scan it, I saw a faint image on the right hand side. It looks to me like an older women with a shotgun. I think the photo went unnoticed for so long because the sheets that covered the photos produced a lot of glare and you really couldn't tell at the time. I know this house no longer stands, it is now a grocery store in Washtenaw County, Manchester Michigan. Thought I'd pass this along. I still think there is some other explaination. Maybe it was developed with another photo at the same time. I'm really not sure about any of this kind of stuff. Let me know what you think. Thanks. Feel free to use the photo however you like.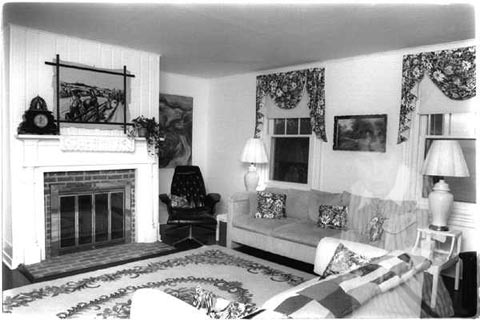 Steve Kompier (steve@ghostinvestigations.com) sends us: I thought that you'd enjoy seeing a photo that I took during a tour of the Winchester Mystery House. Could it be Sarah Winchester? There was nothing visible at the time the photo was taken.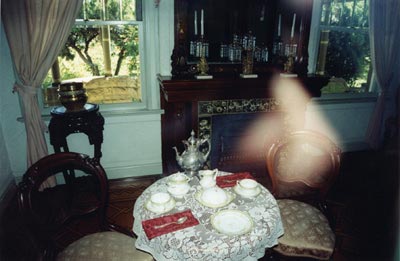 Michael White (dogheavenmusic@hotmail.com) writes: The enclosed photo is approximately 20 years old, shot on a Kodak Instamatic camera. It was Christmas morning. Absent that morning was the great grand mother, recently deceased, who used to love to sit in her rocking chair. The girl in the shot wants your viewers and listeners to know that she perceives the apparent ghost as a very loving presence. There was no photo-manipulation of the shot and no smokers present at the time of the shot.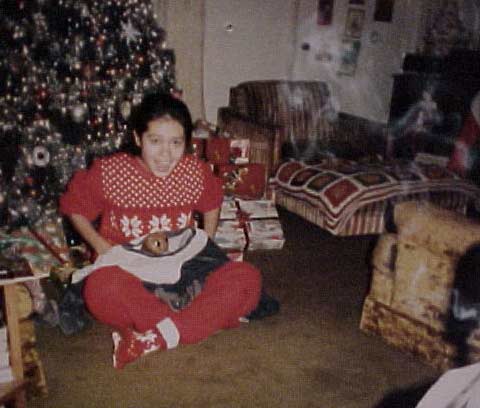 ---
Has Planet X been spotted? Is Nibiru inhabited and inbound?
---
Chris Vigiletti (Chrisv@lacma.org) writes: My daughter just sent this to me. This is a picture of my 4 year old grandson Sean. It was taken at a rare family gathering on Labor Day in the brand new house of my daughter's uncle. It was taken with a digital camera. No one was smoking. I think this is my daughter's grandmother giving the grandson she never saw a great big hug. My daughter was pregnant with Sean when Grandma Cooper had an accident and passed away. My daughter was very brave and traveled from Oklahome City to Lubbock to be with Grandma in the hospital over several weekends. I think that even though this is a new house, with all the family present, Grandma saw this as a golden opportunity. What do you think. Awsome, right!.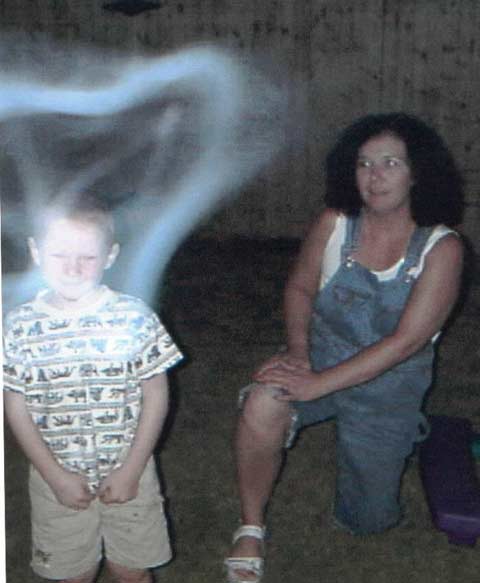 Jeff Young (raven276@paonline.com) writes: This is a Poloroid photograph I took in November 1992 while on vacation to the United Kingdom. The precise location is Oakley Court, just outside of Windsor. Many years ago, Oakley Court was used as a set for numerous horror films, as well as the cult-classic, "The Rocky Horror Picture Show". Oakley Court was renovated (if I recall correctly) in the late 1980's and is now a five-star hotel. I went outdoors and took pictures on the grounds. Upon reaching the bank of the River Thames, I turned and photographed the building with two cameras, [Polaroid and Pentax K-1000]. I then turned around and photographed the river behind me. A few minutes later, after walking acosss the yard, I looked at the Poloroids and noticed the camera had picked up 'something'. Initially, I thought there was a flaw in that particular Poloroid. Upon examining the photo of the river, however, I saw the picture came out perfectly clear. I snapped a few more pictures with both cameras for the rest of my stay. I experienced further difficulties with the remainder of the Poloroids. There appeared to be a white fog between myself and the building. The photographs from the Pentax camera developed as they were supposed to; in other words, they did not contain any ghostly images.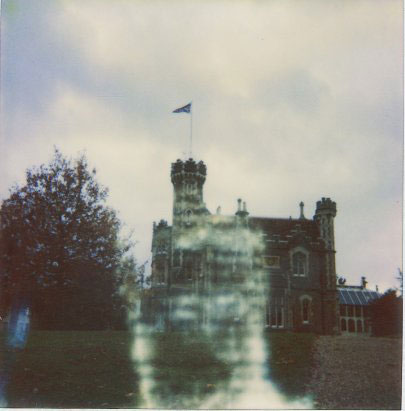 Kim Terry (KTerry@KC.RR.Com) sends us: My girlfriend and I decided to stop at the Hardin Missouri cemetery. This is the cemetery that got flooded out in the 1993 floods where most of the caskets came out of their graves and floated down to the river. Hardin has erected a memorial to those remains that could not be identified. This picture was taken of that memorial that lists the names of the persons that could not be identified. This was taken with a cheap Kodak 35mm camera, developed at Wal-Mart using their one hour photo processing. This image is on the negative as well. We find this very strange because the rest of the roll taken of just ordinary things, does not have this on them.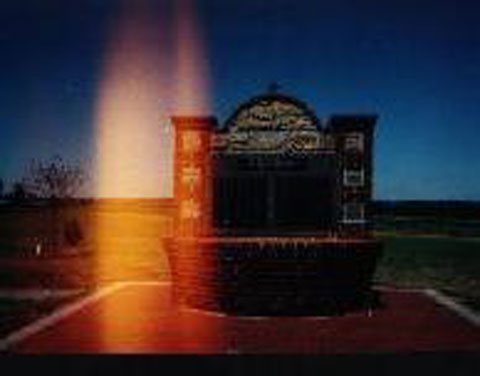 Tim Eberly (chekmate@elltel.net) writes: My friend is going to quit smoking after 40 + years. I decided to take a pic of his cigarette today, because I like the way it looks in the black and white format. (I am trying to improve my photography skills). Anyway....later on in the evening I thought it would be funny to see something in the smoke since the topic came up after the 9-11 bombing. I took another look at the photo and saw death checking out the position. If you don't see it right away take a step back and look at the picture again. Once you see the shoulders it becomes obvious.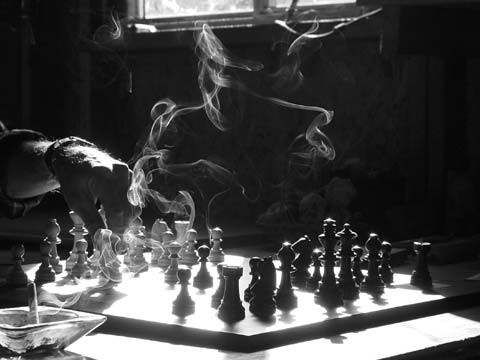 Carrie Sundvall (Skydancer36@yahoo.com) sends us: I am sending a photo that I think may be a picture of a ghost. I took it in the Cowboy Hall of Fame in Oklahoma City, around 1990 or 1991. I don't know how much you know about the Hall of Fame, but underneath the museum, in the "basement" is a model of an old west town, with different shops, stores, etc., and that is where I was snapping pictures so that I could show my husband because he didn't get to go. I was looking in the windows of the shops, and snapping photos of what I thought was interesting, and this particular photo is of the Sheriff's office, I think. There was no one near me when I took the picture (the museum was rather empty that day anyway) and I didn't feel a "presence" or spooked or anything. I took pictures of the other shops, and nothing showed up on those pictures even vaguely resembling this.
If you look to the right of the photo, there appears to be some sort of "white-out" and just to the left of that, towards the top of the photo, you can make out a chin line, and once you see that, the rest kind of falls into place (it did for me anyway). I don't think the figure is a reflection of me, because I am nowhere near that tall. To be honest, I don't know what it is, except that it looks like a ghost.