NOTE: Remember folks, we don't insist any of these are real, but are posted for your enjoyment and consideration. We post what the submitter claims. We leave it up to you to decide what is real and what is phoney.
steveskor@ameritech.net sends us:
This photo is taken in front of Chet's Melody Lounge which is located across the street from Resurrection Cemetery, the home of Resurrection Mary, Chicago's most famous ghost! I was taking a photo of the bartender in front of Chet's in a 'ghostlike' shot utilizing standard photographic tricks. However, when I got the film developed, I also noticed a red mist on the right of the photo. I'm not sure what it means. Almost as if a ghost were watching us (possibly, RezMary?)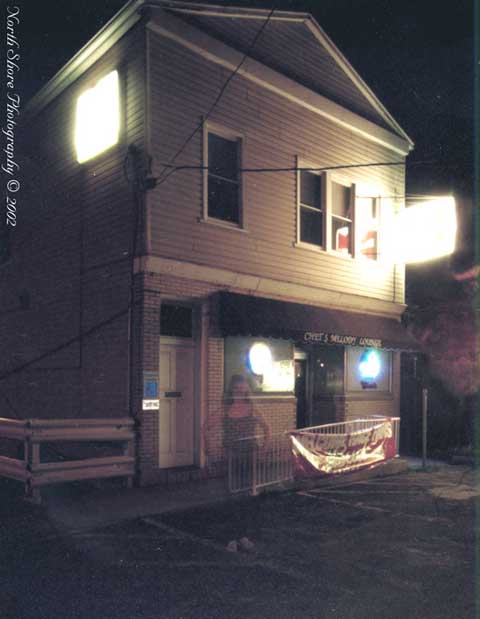 ---
Wooden UFO knick-knack box. Nifty stocking stuffer for Christmas
---
Stan Noel writes:
I took this in April of 2000 in the Trinity Alps of N. California. I was surprised to see a face in the water fall.
Kid Frencia (kfrencia@hotmail.com) sends us:
This photo was taken at my grandmother's house about a year ago in Williamsburg VA. I was setting up her new computer and had taken a test pic with the quickcam that came with it. I saved the file in an attempt to show my grandmother how to use the computer (saving files and stuff). I really didn't see what was in the picture until two weeks ago when I was installing some new software. What do you think it is? The evening that this picture was taken, my grandmothers neighbour passed away from natural causes.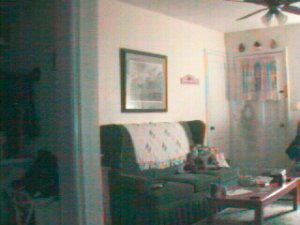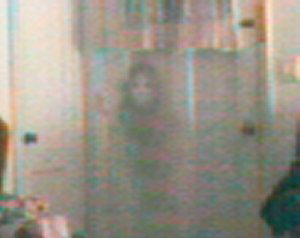 Mary Honeysuckle (2honeys@msn.com) sends us:
This picture was taken 9/29/01 at my brother's home in Little Rock, AR. We were shocked to see the face in the fire.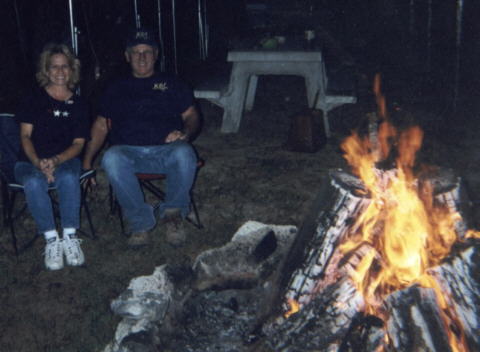 Tim Blain sends us:
The image I am sending you is an unretouched photo taken in 1980 in Louisville, Ky. The subject in the chair is my cousin. His face is blurred to protect him. My brother took the picture. He passed away 11/11/97. I was not present when the photo was taken. In the 20+ years sense this photo was taken I have asked over and over again if they used some sort of trick to get this image. The answer was and remains "no" to this day. Look close at the helmet resting on the table. The subject in the chair was recovering from a bad motorcycle accident. There had also been reports of ghosts and strange feelings from the basement of the house this photo was taken in. I never saw ghosts in the house, but I got a very uneasy feeling in the house. My mother claims to have had seen "Dark Shapes" swirling around her as she tried to sleep when spending the night. The house belonged to my aunt. I have no explanation for the image. I just know it is still makes me uneasy.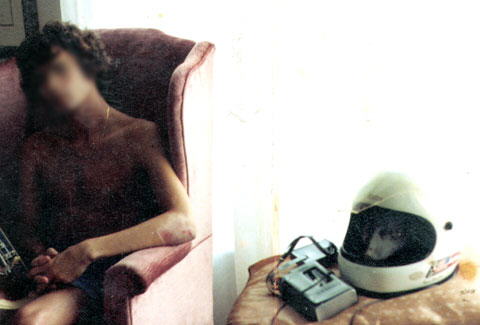 Chuck Wood (nomadicwoods@hotmail.com) sends us: I used to work at a used furniture store and I was cleaning up an old hutch and discovered this photograph. It intrigued me so i inquired about who it was we purchased the hutch from then went to see them with the picture. After a very friendly elderly lady greeted me I showed her the photo and she turned stark white! She said the pic was of her 2 daughters on a camping trip they took not long after her husband unexpectedly died. Guess who decided to come along?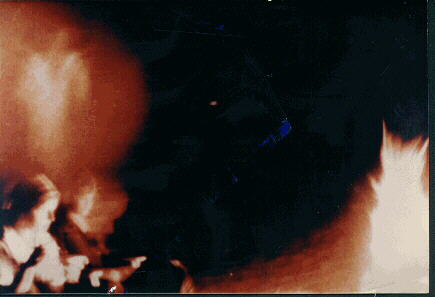 Kevin Dubrick (k_dubrick@hotmail.com) writes: The 3 of us (Corinna, Angela and Kevin) decided to sublet an apartment from someone rather than staying in a hotel - it turned out to be a good decision, although like most NY abodes, it got a bit cramped. We only stayed in the place for a couple months, and probably only have a handful of pictures of the place. Anyway, this was taken in 2000, and didn't even notic the "head" behind Corinna, untill one of my friends pointed out to me recently. Never thought the place had any ghosts, but I think this proves otherwise!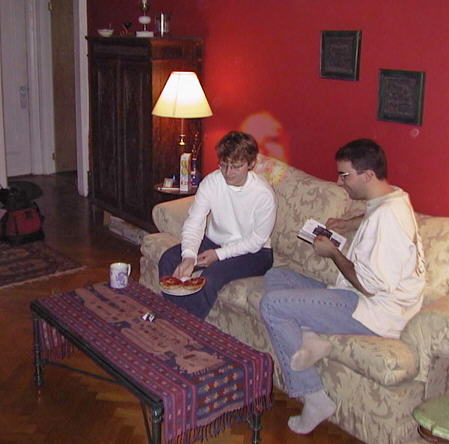 J. Newkirk (jsnewk@skyenet.net) sends us: Here is a picture a friend gave me to send to you. This is at a house she grew up in as a kid and no longer lives there. The image appears to be leaving the chair and heading toward her bedroom. At times their dog would not enter her room and she would feel a "strange presence" as she described it.