Art's a hit in Las Vegas cabs!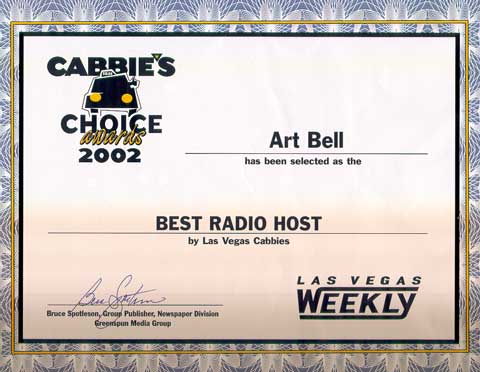 ---
Use Your Computer from Your Recliner or Bed! See the Easychair Workstation!
---
Michael Grathwohl (Michael.Grathwohl@udlp.com) writes Art: Did you ever have anything to do with a radio station on the Island of Okinawa about 1967-68? I have a photo from a radio station promotion (KSBK) in which a DJ by the name of Art Bell was going after the world see-sawing record. Per chance...was that you?
Richard Nichols (richardsend@hotmail.com) sends us: I thought I would send this re-designed pic of yours back to you. I looked at your website and loved the sight with your visit to the site where "Somewhere In Time" was made. My Wife and I loved the movie -time travel is something I find fascinating, also. I would love to go back to Michealangelo and Leonardo's time and just stay there and learn painting from them! Man! I was suprised your wife is from another country - thats cool! Thank you for your program! My wife found you on the radio a few years back and we have listened to you on a regular basis since. Your topics are refreshing, fun and most insightful. Some of your topics stir my artistic imagination and gives me great subject matter to paint -like your Wife. When I saw one particular sight of Ramona standing in that beautiful wine colored dress in a nice flowing pose I thought I would make something mysterious from it and send it to you. If you took the picture you created a nicely composed shot. It would make for a great full-sized painting in oils -very nineteenth century! Well, sir, thank you, again for your show, your awesome personality and your intimate, easygoing on-air manner. I feel like you and your guest is talking to us in person in our apartment sometimes.
Art and Ramona's KNYE-FM 95.1
On the Air November 2001