Neil Slade (www.NeilSlade.com) sends us:
This UFO was seen in daytime by Stan Romanek in west Denver, December 2000, also witnessed close up by about a half dozen other people and aired on the local news. This UFO first appeared directly above power lines next to the road, about fifty feet from witnesses. It almost instantaneously, and completely silently "popped" many hundreds of feet up in the air, at which time  the video camera was turned on. Careful inspection of the video shows the six smaller diameter balls on the bottom of the craft rotating around the base, which according to witnesses was "...as dark as a black hole, like looking into infinity".
For months after this sighting, birds began colliding into Stan's car windshield- 34 separate times over the next several months. It suddenly stopped after his vehicle was beamed by the another UFO on September 30, 2001.
Click on Image to View Real Video File
And Turn on Your Sound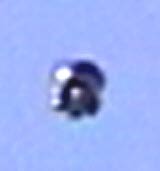 UFO #2 which followed Stan Romanek of Denver on three separate occassions witnessed by about 50 people, the third and fourth weeks of September. It pulsed several times a second, and the series of photos below is extracted from only one second of video. This UFO was as close as within thirty feet of witnesses, one of whom is the president of the Denver Art Bell chat club, "The Listeners". All of the witnesses described its motion and appearance unlike anything they could imagine- certainly not a balloon or any manmade object, darting about from point to point at inconceivable speed. It was about 12 feet in diameter, with an intense blue light at the bottom (shown in the photo as white), strobing red from bottom to the top, with red illuminated latticework and connectors.  During its last appearence it spotlighted Stan's entire vehicle, as witness by two other drivers nearby.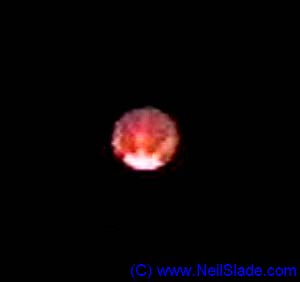 Reference WebSite: http://www.NeilSlade.com/UFOs.html